A password is a part of the security feature to ensure that the device and data on the device are safe. It is suggested that the admin change the password at regular interval of time to make sure they are fully in control of the device and the data of the device.
The same applies to our product SureLock as well. Using SureMDM, the password on the SureLock can be changed remotely.

Follow the below-mentioned steps to do the same.
​
1. Log in to SureMDM, and select a device on which you would like to change the password on SureLock.
2. Click on SureLock in the dynamic jobs section on the right-hand side of the SureMDM web console.

3. On the SureLock Settings pop up tap on Edit XML on the bottom of the screen.
4. A body of code will appear on the screen. Search for <password>Encrypted password</password> in the settings.

5.Open http://www.miniwebtool.com/sha512-hash-generator/ in a different browser tab and enter the new password in the blank box and generate a substitute hash code.

6. Put the hash code generated between <password> and </password> from Step 4 in the settings.
7. Once done, tap on Save Source.
a. If you want to make the changes on only one device, then tap on Apply and confirm the same in the next pop up.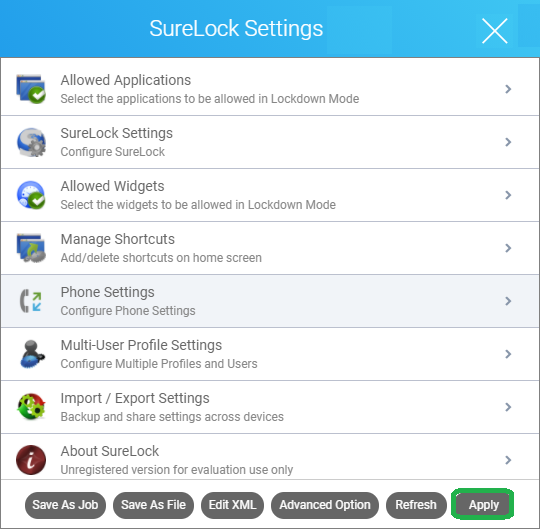 b. If you intend to apply this change on many other devices, tap on Save as Job, Enter the Job Name, and tap on Save.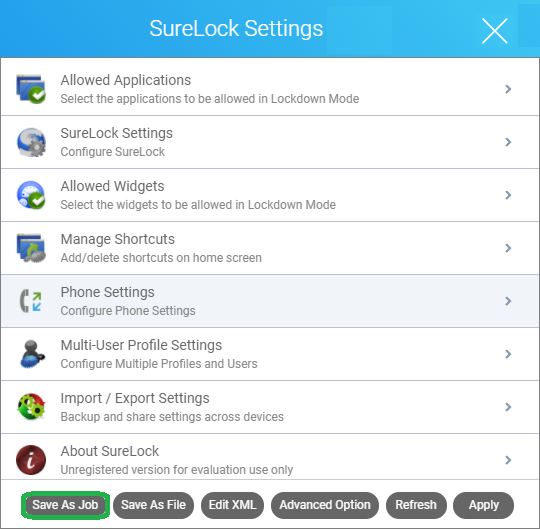 8. Select the device on which you want to push the job and push the job created in step 7.
Note: The same process can be used to change the password on SureFox Android too.
To register for a free trial, click here.
If you need further assistance, please submit a ticket here