SureMDM allows the IT admins to create a customized job that will be added to the dynamic jobs section on the SureMDM Web Console. This feature allows the admins to configure specific jobs based on the use case and run it on the devices without having the need to select the job from the list with just a click of that customized job/icon.
There are two types of jobs under toolbar:
1. Predefined Jobs – Jobs that are available by default.
2. User defined Jobs – Admins can create a customized job with the desired icon.
To create a User defined job, follow these steps:
1. Navigate to SureMDM Web Console > Settings (icon located at the top right of the console) > Account Settings > Customize Toolbar.
2. Under User defined Jobs section, click Add.
3.  On the Add Jobs prompt, configure the below fields(see image below):
a. Enter a Name.
b. Click Browse Icons to browse and select an icon.
    c.  Select a job from the list of jobs created already on your console.
    d.  Click OK.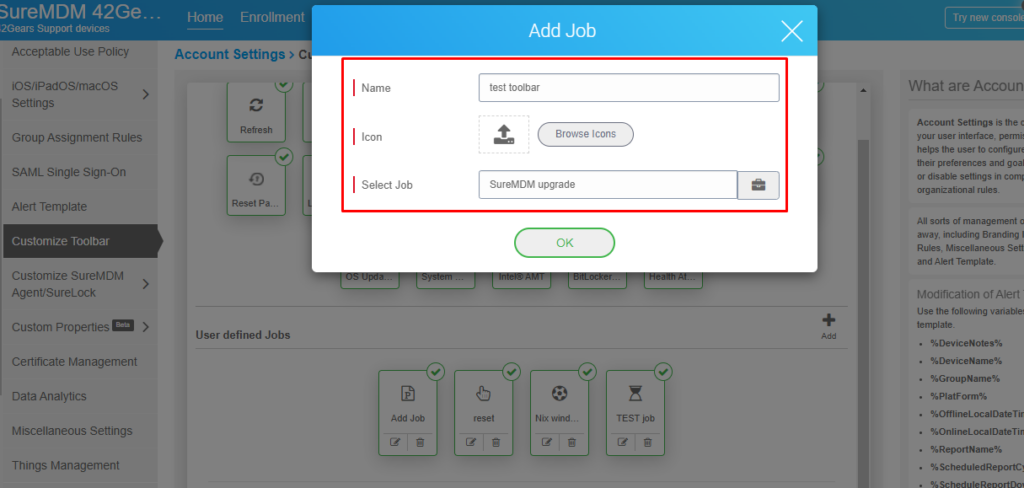 The newly created customized job will be displayed under User defined job section and also gets added to the dynamic jobs section once you click on More option(see image below) : 

To know more about SureMDM, click here. You can also signup for a trial.
If you need further assistance, please submit a ticket here.