SureMDM now offers the admins to enroll the devices directly to specific groups in which they seek to have their devices set up. This is possible while creating the QR code for enrollment to SureMDM Web Console for mass configuration and deployment.
1. Login to SureMDM Web Console.
2. Navigate to Enrollment tab and click on QR Code Enrollment.
3. Further click on the ListView option and select Create QR Code.
4. On the Setup QR Code for Enrollment prompt, enter the below details.
a. Under the Enrollment Type tab,
Give a name for the QR code.
Select the Android platform.
Select preferred option under Enrollment type.
Click Next
b. Under Configure Options tab, enter or select the required details:
Select the specific group to which you wish to enroll the device using the QR code.
Select Device Naming option(IMEI/MAC Address/Serial Number/PhoneNumber/Device Name)
Select Wifi SSID, Password, Security type, and other provisioning settings. (Optional)
Click Save.
Newly created QR code will be listed under the QR Code Enrollment section.
5. Launch SureMDM Agent on the device and go to Settings.
6. On the Settings page, uncheck Enable SureMDM Agent Service and navigate to Enroll Device Using QR Code to scan the QR Code of the Web Console for instant configuration into the specified group.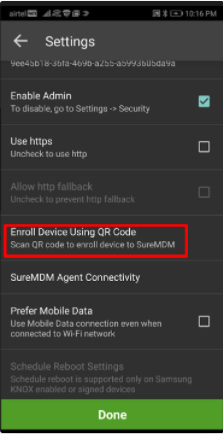 Once successfully scanned and configured, the SureMDM agent status will change to Online and the device will show up on the SureMDM Web Console .
To explore more such features in SureMDM, click here.
If you need further assistance with our products, please submit a ticket here.