Creating user accounts on the business devices is necessary where more than one employee need to access the same device. So, having multiple user accounts on a device creates individual login experience.
Understanding the importance of the feature, the SureMDM solutions offering the admins to create the user accounts remotely on the macOS devices.
To create a user account on the macOS:
1. Login to the SureMDM solution
2. Navigate to the Jobs section and click on the New Job button and select the macOS platform
3. Now, click on the Create User Account job
4. On the new Window enter the below details.
Job Name

Account Type: This is to specify the type of the user. Choose between the Administrator or Standard user
Full Name: This specifies the full name of the user
Password: Configure the account password
Verify Password: Verify the account password created in the above step
Password Hint: This will be displayed as the password hint in the login window
5. Click on OK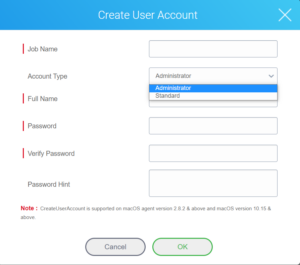 Once the job is created, the admin can go to the Home and choose the device(s) or group(s) and apply the job.
Note: Create User Account is supported on macOS agent version 2.8.2 & above and macOS version 10.15 & above.
For more details on our SureMDM solution, click here.