User-agent is a browser feature that determines how the browser identifies itself while requesting information on the web. It also affects the behavior of web pages displayed on your web browser. For example, many websites have a lighter version specially designed for mobile platforms. However, this might not be desirable always. The good news is that this behavior can be changed as per comfort by changing your browser's user agent.
SureFox provides an easy way to change its User-Agent to emulate any browser of your choice. Just follow the steps below to manage your user agent:
1. Launch SureFox and go to the admin settings using your password
2. Tap on Browser Preferences
3. Scroll down to Advanced Settings and tap on Browser Agent.
4. On the Browser Agent page, select a preferred browser agent from the list shown on the Browser Agent screen.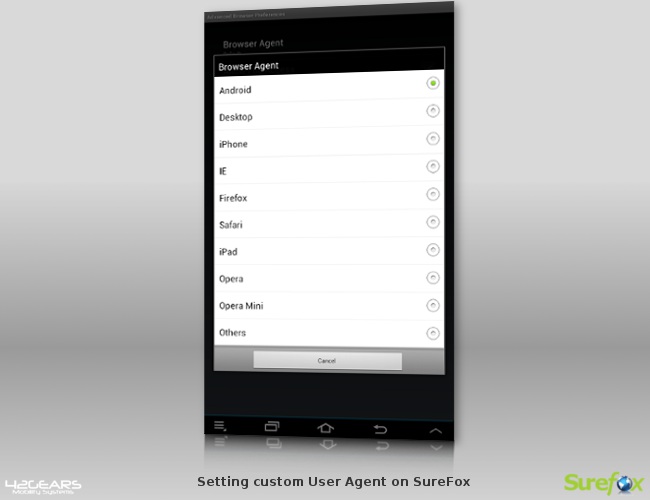 How to set custom User-Agent on SureFox:
To set a custom user agent, tap on Others. A dialog box will open where you can enter the custom user agent.
You can find the user agent of your desired browser here. Copy the exact user agent string in the dialog box and press OK to save the settings.
Once done, the new browser agent will be used by SureFox.
To know more about SureFox, click here
To learn more on how to secure and manage Android, iOS and Windows Mobile/CE devices efficiently, visit us at www.42gears.com
If you need further assistance, please submit a ticket here