Any devices to connect to the internet should be connected to Wi-Fi or LAN via ethernet cable. SureMDM offers the possibility to add different Wi-Fi SSIDs to the macOS devices so that they get auto-connected to the defined SSIDs. The SureMDM enrolled macOS devices can be remotely configured to a wireless network using a Wi-Fi configuration profile.
Purpose
The purpose of this knowledge article is to provide a guide on how to configure Wi-Fi Configuration Profile for macOS.
Prerequisites
NA
Steps
Login to the SureMDM Console.
Navigate to Profiles and select macOS platform.
Click +Add to create a new Profile.
Enter a Profile Name.
Select the Wi-Fi Configuration tab and click Configure.
Click +Add to open the Wi-Fi Configuration pop-up.
Enter SSID name – The Wi-Fi connection name.
Select the Security Type.

None
WEP
WPA2 Personal
WPA/WPA2 Personal
Any (Personal)
WPA3 (macOS 13.15 or later)

Select Proxy Type.
Enable Auto Join checkbox, if required.
Enable Hidden Network if the SSID is hidden.
Click Save to save the Wifi Configuration.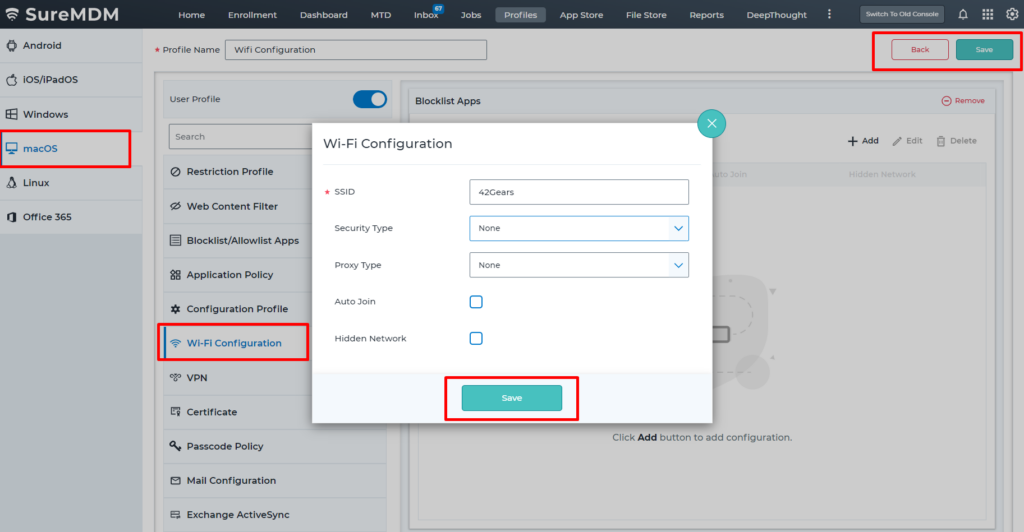 Click Save to save the Profile.
Navigate to the SureMDM home and select the macOS device(s).
Apply the Profile created.
Need more help? Here's how to get help from our experts.