If an admin is looking for an option to sort or to list all the devices enrolled to profile owner mode or device owner mode, in a single list, here is the way to do it in SureMDM. Below are the steps.
Steps:
1. Enroll the devices to Android Enterprise and log into the SureMDM web console.
2. Navigate to Columns and select Android Enterprise as shown in the screenshot below. Once done, Android Enterprise will be listed in the title section of the device grid.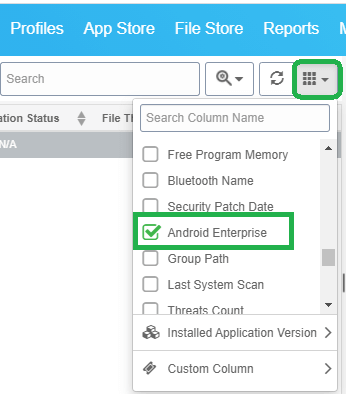 3. Further, click on the Search icon just above the device grid and select the Advanced search option.
4. You will notice small boxes wherein you can enter the value you are looking for. Navigate to Android Enterprise listed from Step 2.
5. Enter values such as Device owner or Profile owner as per your requirement.

For example, if I enter the value as the Device owner, all the devices enrolled to Device Owner mode on the SureMDM web console will be listed.
6. Once the list is generated, select all the devices and right-click. Select the Tags and then Add Tags option available in the drop-down menu.
7. Enter a name under Create Custom Tag in the Tag list and Save the tag.
8. This tag will be listed in the Tags section which is available in the left-hand side corner of the SureMDM web console. Clicking on the create custom tag name will list all the devices added to that tag. Click here for more details on Tags.
For more details on our products, click here
If you need further assistance, please submit a ticket here