Shortcuts are links that provide quick access to files, websites, applications, or settings. They save time and help increase your work productivity. SureLock provides a way to create shortcuts for system settings, documents & applications on its home screen.
Follow the steps below to learn how to create a shortcut in SureLock:
1. Access SureLock Admin Settings using SureLock Admin Password
2. Tap on Manage Shortcuts on the Admin Settings screen.
3. There are two types of shortcuts that you can create in SureLock. Tap on Add Shortcut, to begin with:
i. System Settings Shortcut: Useful when the admin wants to give the end-user, access to control a particular fragment of system settings on Android devices.
Tap on Add Settings Shortcut and choose any Android system setting from the predefined list.
ii. Application Shortcut: Allows you to create application shortcuts for certain applications that are supported by the default Android system. Tap on Add App Shortcut and select from the list of available applications to load its configuration in SureLock.
4. You can also have a customized shortcut on the SureLock Home screen. Select Settings shortcut or App shortcut and edit the attributes such as Shortcut Name, icon, Intent, Category, Package Name, Class Name, URI, Extras, Flags, etc., as per the custom shortcut. (Help link)
5. Once done, configuring the shortcut, tap on Test Shortcut to check the working of the shortcuts created. Tap on Save to save the shortcut. Your shortcut will be displayed on the SureLock home screen.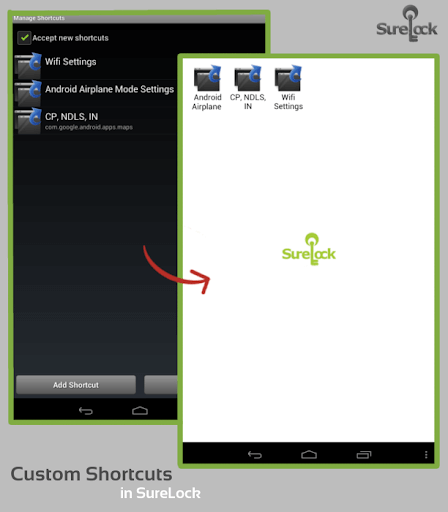 In addition to this, SureLock offers other options under the Manage Shortcut feature.
i. Allow New Application Shortcut: Enabling this will allow the creation of a new shortcut on the SureLock home screen.
ii. Show New Application Shortcut: Enabling this will show the shortcuts on SureLock that are created on the Android Home screen.
iii. Remove Shortcuts on App Uninstallation: Enabling this option will remove the shortcut created in the SureLock home screen when the application with which the shortcut is created is deleted from the device.
Using SureLock you can also create shortcuts for a file, folder, or application created by 3rd party applications or file managers if the Accept new shortcuts option is enabled in Manage Shortcuts settings.
Note: You will need to add the respective application/package to the list of Allowed Application for the shortcut(s) to work correctly.
Example: For a shortcut to system settings, you will have to add the Settings application to the allowed applications list. Though you can hide it from the home screen by enabling Hide Icon in Home Screen setting.
To Know more about SureLock, visit https://www.42gears.com/surelock
Click here for Free Trial for Android Devices