SureMDM enables the admins to deploy jobs on preferred networks i.e., the admin may deploy the jobs only when the device is connected to mobile data or when the device is connected only to an available Wi-Fi Network. The admin may also set the job to be deployed at either of the aforementioned networks(Any Networks).
In addition, the admin may also deploy the job according to the device's charging status.
Below are the steps the admin can follow to deploy the job based on the network type and device charging status.
Login to the SureMDM console and select the device from the device grid.
Further, click on Apply button and choose an Install or File Transfer job to push to the device.
Now, click on the Deploy Job On drop-down and select the desired option – WiFi Only, Mobile Data Only, or Any Network
Click n Device Charging Status drop-down and select the desired option – Don't Care or Plugged in.
Once the options are set, click on Apply button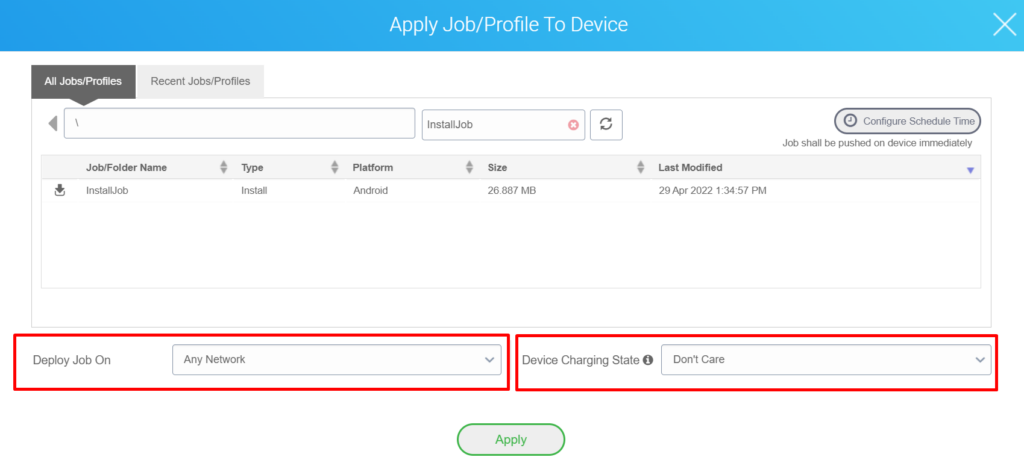 Note:
The options are preset to "Any Network" and "Don't care" for preferred Network and Charging status. Depending upon the necessity, the user may make necessary changes.
This feature is available only for Install Jobs and File Transfer jobs, considering they might need customization governing to the large job size they may occupy. Other jobs can only be configured to be deployed at a specific time.