SureMDM allows you to create Compliance Jobs, which impose specific parameters devices must follow. SureMDM can monitor devices at all times without your intervention; when devices break security parameters, SureMDM can automatically take response actions to secure company data.
Steps to create and apply Compliance Job on enrolled devices
1. Login to SureMDM Web Console.
2. Go to Jobs and select New Job.
3. On the Select Operating System screen, select either Android or iOS as the platform. (If you are working with iPads running iPadOS, select the iOS option.)
4. On the Select Job Type screen, click Compliance Job.
5. On the Compliance Job prompt, give a name to the job and configure one or more of the following compliance options:
– OS Version: Detect which OS version is installed, and set response actions if the OS version does not match your mandated setting.
– Jailbroken/Rooted: Detect jailbroken (iOS/iPadOS) or rooted (Android) devices and set response actions.
– Online Device Connectivity: Detect how long devices have been disconnected from the internet. Set a maximum disconnection time beyond which to trigger response actions, and which response actions to take.
– SIM Change: Detect when a device user changes a device's SIM card, and set response actions.
– Password Policy: Detect when devices do not use passwords that match your minimum password security standards, and set response actions.
*Response actions include the following:
– send message (through SureMDM two-way messaging, email, or SMS)
– move the device to blacklist
– wipe the device
– lock the device
– apply a specific job, enabling a combination of actions
6. Once done, click Save to complete.
7. Go to the SureMDM Home page, select the desired device and click on Apply.
8. On the Apply Job prompt, select the created Compliance Job and click on Apply.
Steps to view Compliance Report in SureMDM
1. Login to SureMDM Web Console.
2. Go to Reports and click on On Demand Reports.
3.Select Compliance Report.
4. Under the Compliance Report section, select Show All Compliance or select desired compliance items.
5. Select group(s) or a device(s) and click Request Report.
6. The request will be added to the queue.
7. Select the report and use the Download and View options to either download or view the report.
A sample report: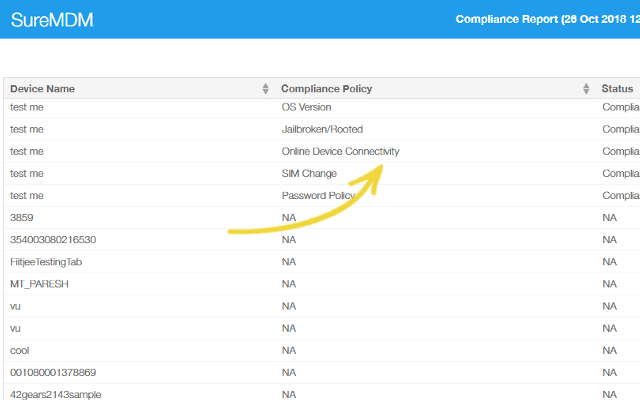 To ensure compliance, and take other important security precautions, try SureMDM for free.