Follow the steps below to export your SureLock/SureFox configuration to a settings file:
1. Launch SureLock/SureFox.
2. Go to Admin settings using your password (Default: Tap on home screen for 5 times within 3 seconds to bring up the password prompt).
3. Once you are on settings screen, tap Import/Export Settings and select Export to File option.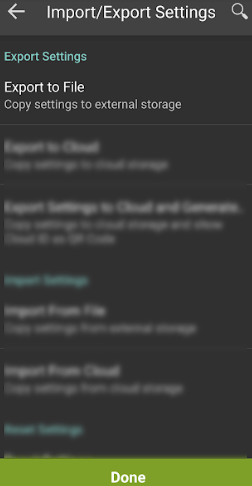 4. On the Export to File dialog box, you can tap on the Browse button to select the location where you want to export the settings file. By default, the settings file is exported in your "/sdcard " folder as SureLock.settings. (In case of SureFox, it will be exported as SureFox.settings)
5. Once you have selected the export location, tap OK > Done to export the settings to a file.
TIP: You can use the settings file to create a backup of your settings for future use or provision other devices by importing the settings file on other devices.
To learn more on how to secure and manage Android and Windows Mobile/CE devices efficiently, visit us at www.42gears.com