Licensing is one of the crucial components of an enterprise. Irrespective of the nature of the business, if the enterprise is using external paid support to keep the production running, then it is very important that the admin has all the details about the license that is purchased. This is to ensure that it is used to the fullest, for the worth of money paid to buy the licenses.
We at 42Gears encourage our customers to re-use the licenses in case the device on which the licensed version of the product was running is lost, stolen, or broken.
There are multiple ways to free up licenses on the device. Below are the details.
1. From the device: Admin can log into the admin settings of the product (SureLock/SureFox/SureVideo) on the device, navigate to the About section of the product, and tap on Deactivate.
This will deactivate the license on the device and free up a license that can be used on other devices to keep the show running.
2. Through SureMDM when the device is online: The customer can select the device enrolled to SureMDM web console and Tap on the Delete option available just above the device grid. The below-shown message will be displayed.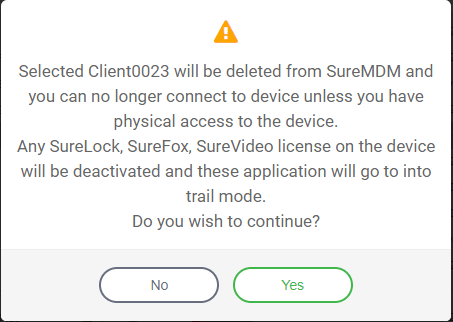 Tap Yes to proceed with the deletion. This will subsequently move the device from the SureMDM web console to the Pending delete state.
Once the devices comes online, SureMDM will automatically deactivate the product licenses from the device and delete it from the web console.
3. Through the License management portal: If the devices are offline, customers can log into the License portal with the registered e-mail ID (Used while buying the license) and activation code. Once done, they can select a device on which the license will be de-activated. A customer can identify the device using parameters such as IMEI, GUID, etc., Submitted request will be processed with 24 hours of request submission.
Note:
1. To use this method to free up the license, the device has to be lost/stolen/broken.
2. This method works only when the licenses are active.
​
For more details on our products, click here
If you need further assistance, please submit a ticket here