SureMDM offers an easy way to monitor data usage on a per-app basis, by using the SureMDM console's Custom Reports feature to generate an Application Data Usage Report.
Steps to create Application Data Usage Report in SureMDM
1. Log in to the SureMDM Web Console.
2. Click on Reports.
3. On the Reports screen, select the Custom Reports tab and click on Add.
4. Provide a name, add a description, enable the Application Data Usage option, add selected items from Tables List to Selected Tables list and click on Save.
5. Go to the On Demand Report tab and select the created Custom Report from the list.
6. Click Select Device or Group to select enrolled devices and click on Request Report.
7. Once the request is added to the queue, go to View Reports.
8. On the View Reports screen, download or view the report.
The following image shows a sample report: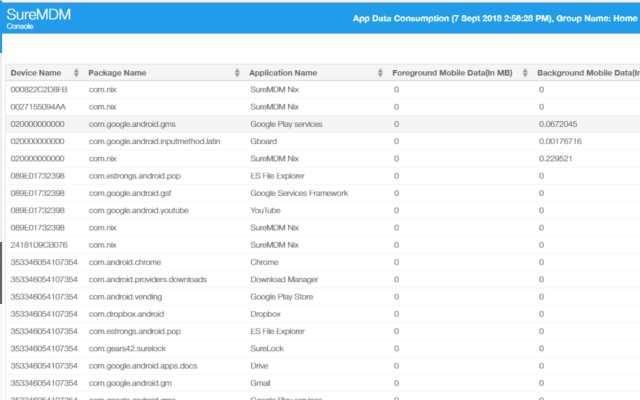 Monitor data consumption and improve efficiency with SureMDM. Sign up for a free trial here.
Updated on April 4, 2020