Network Time Protocol (NTP) is an internet protocol which enables time reference synchronization for computers and mobile devices. Time synchronization is important for businesses that have networks spread across the globe and process time sensitive transactions. A synchronized time in business network across the globe means identical timestamps for activities, even if they take place in completely different time zones.
SureMDM, 42Gears' UEM solution, offers IT professionals the ability to remotely set up an NTP server for enrolled mobile devices.This will ensure that simultaneous activities on business devices will have coordinated timestamps, even if they are in different time zones.
Steps to set up devices with a specific NTP server using SureMDM
1. Login to the SureMDM Web Console.
2. Click on Jobs and select New Job.
3. Select Android as the operating system.
4. Select Run Script job.
5. In the Run Script prompt, enter the following script, including an identified NTP server and click on Save.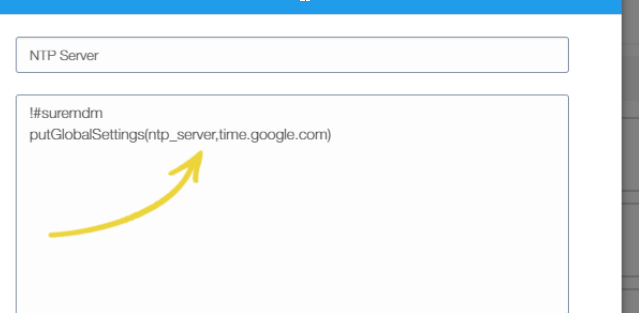 6. Once the job is saved, go to the SureMDM Home and select the device(s)
7. Click Apply.
8. Select the created Run Script job and click Apply.
Once the job is applied on the selected device(s), the NTP server will change to the specified server.
Learn more about the features that SureMDM offers for Android devices. Sign-up for a free trial here.