Its often intended to lock down devices to just a few applications and few websites. This lockdown configuration can be achieved using SureFox Basic in conjunction with SureLock for Android devices.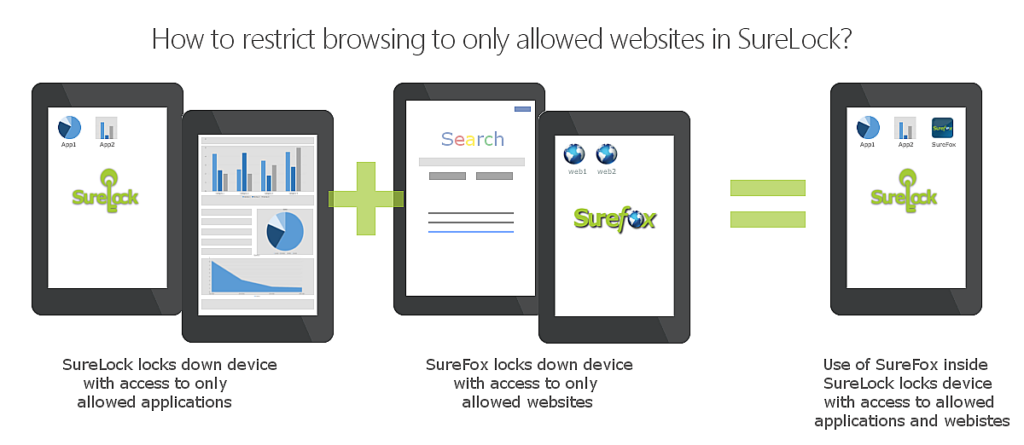 To use SureLock and SureFox Basic to lock down your Android device with access to only allowed applications and allowed websites, follow the below-mentioned steps:
1. Download SureLock and SureFox
(Please note that there are no separate versions for SureFox Basic or SureFox Pro. There is only one SureFox version that you can install from Google Play or 42Gears website. Based on the activation code, it will either work as SureFox Pro or SureFox Basic.)
2. Launch SureFox
3. Access SureFox Settings by tapping on SureFox Homescreen five times within three seconds
4. On the SureFox Settings screen, tap Allowed Websites
5.On Add/Edit Allowed Websites screen, tap Add URL to add an allowed website
6. On the Enter Website Details screen, enter the details of the website and tap Done
7.Tap on Exit SureFox to exit SureFox
8.Now, Launch SureLock
9. Access SureLock Settings by tapping on SureLock Homescreen five times within three seconds
10. On the Admin Settings screen, tap Allowed Applications
11. On the Allowed Applications screen, tap Add App to allow an application
12.Select SureFox and other applications you want to allow on the SureLock home screen. Tap on Done
13. On the Admin Settings screen, tap Done to complete
Once back on SureLock Homescreen, SureFox along with other applications will reflect as an allowed application and when launched, the users will have access to only the allowed websites.
If you need further assistance, please submit a ticket here
To download SureLock for Android, click here
To download SureFox for Android, click here
To know more about all our products, click here