Encrypting the MacOS machines is a necessary task to keep the data safe and secure. The administrator can do this job for any organization. But it will be a tedious task for them to handle when the number of machines is more. In such situations, the administrator can use SureMDM to encrypt the device and have the encryption key shown on the console.
​Below mentioned are the steps on how to show the encryption recovery key.
1. Encrypt the macOS machine. Click here for details.
2. Log out from the macOS machine and a prompt with FileVault Recovery Key will be displayed on the machine.
3. Once done, login back to the macOS machine. Navigate to System Preferences on the macOS machine, click Security & Privacy to check the status of the encryption. ​
4. Further, Log into the SureMDM web console.
5. Select the device and click Recovery Key shown in the dynamic jobs toolbar. A prompt will appear with the Encryption recovery key.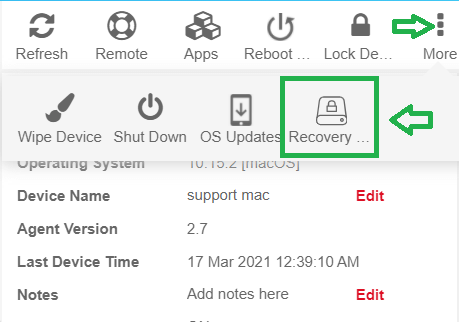 For more details on our products, click here
If you need further assistance, please submit a ticket here