We might come across scenarios where the install or file transfer job failed to deploy or the files failed to upload on the SureMDM On-Premise console. In such scenarios, we must first validate if the storage is configured correctly on the server and check if the server storage is pointing to either S3, SQL, or FTP based on the requirement.
To verify which storage is being configured for the server, we need to use SSMS(SQL Server Management Studio).
NOTE: If SSMS is not installed on the server, please download and install the same using this link
Please follow the steps mentioned below to verify the server storage:
1. Launch SSMS from the server where SureMDM On-Premise is installed and SQL server is hosted.​
2. Login to your SQL server using the credentials you configured during the initial configurations of the server.
3. Select suremdmdb and right-click and select New query to run a query.
4. Execute the below query to check the value
select UseOldStorage_customer from customer 
If the query values returns as
0 then the storage is S3.
1 then the storage is SQL.
And 2 will set it to FTP.
Refer to below screenshot for reference.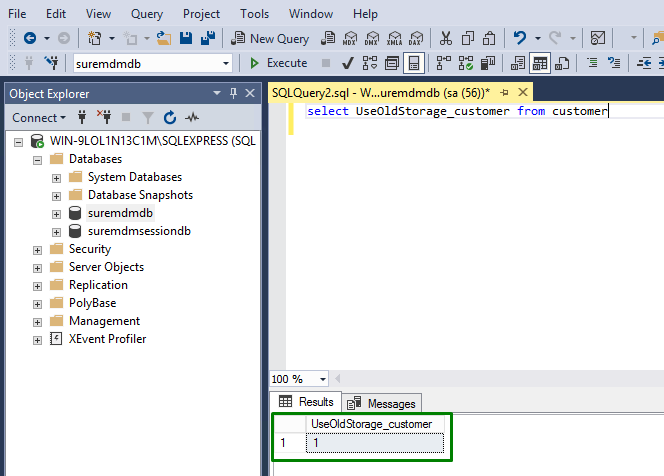 To set the server storage to any of the above configurations based on the requirement, please run the below query specifying the value as needed.
update customer set UseOldStorage_customer = '1'
​ Please refer to the screenshot below.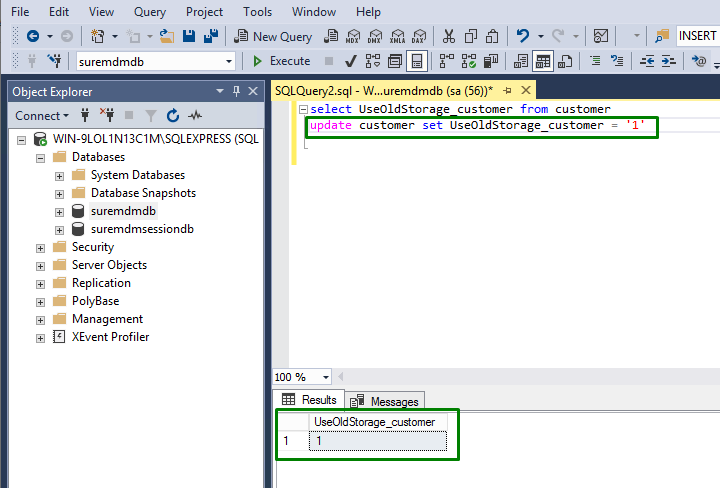 For more details on our products, click here
If you need further assistance, please submit a ticket here