There are times when you want to lock your iPhone's or iPad's screen to a single application. This is also a common request from most of our customers who use their iOS devices for business and commercial purposes. These requirements vary from locking down of iPads/iPhones for simple kiosks to transforming them into handy mobile devices for their field workforce.
SureMDM for iOS helps you lock down your iPhone & iPads with just one application running all the time. It also disables the Home button, Notifications, and Control Center for advanced lockdown.
This lockdown of iPhone's or iPad's screen with just one application, also referred to as Single Application Mode is further extended with the following complimenting features:
1. Remotely lock down the iOS device to a single application running all the time
2. Remotely switch the application to which the device is locked down
3. Schedule Single Application Mode to launch periodically
How to lock down an iPad or an iPhone to Single App Mode?
To lock an iPad or an iPhone with a single application, follow the below-mentioned steps:
1. Login to SureMDM Web Console
2. On SureMDM Home, click on Profile and select iOS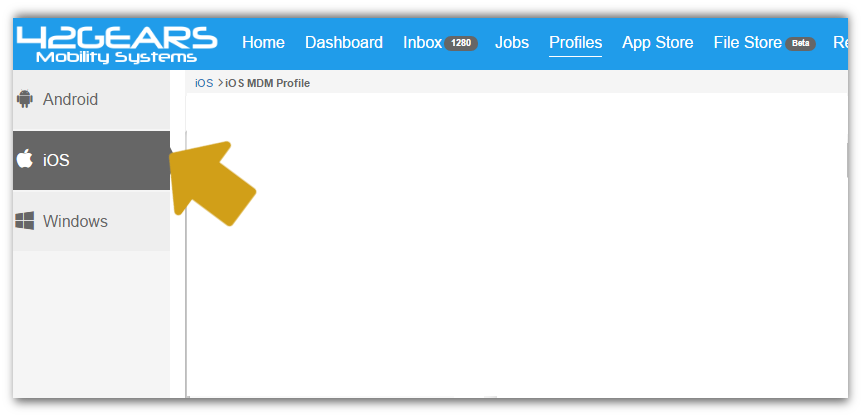 3. Next, click on Add to go to iOS MDM Profile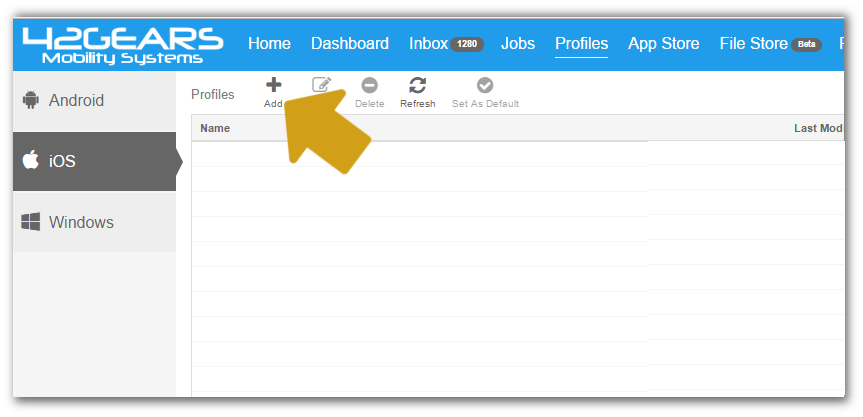 4. On iOS MDM Profile, select the Single App Mode Profile option and click on Configure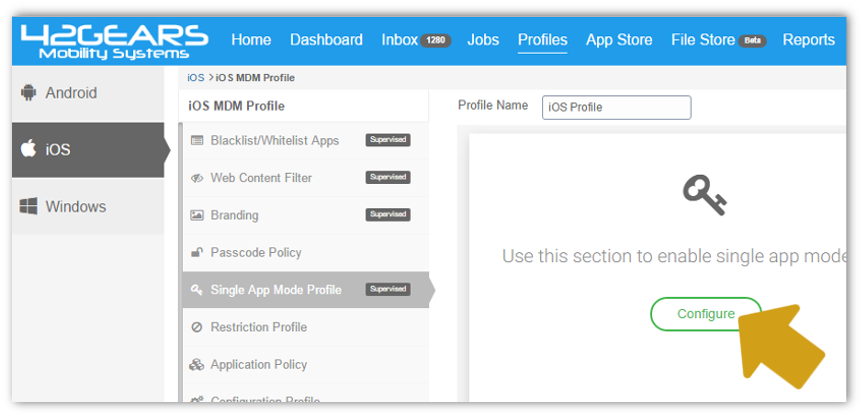 5. On the iOS Single App Mode Profile prompt, select the app from the dropdown menu, check Single App Mode checkbox and click on Save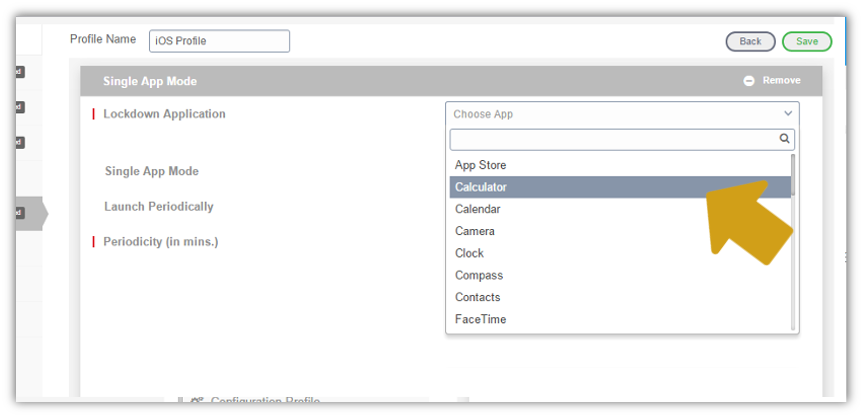 6. Once done, go back to SureMDM Home, select the desired iOS device, and use the Apply option to apply Single App Mode Profile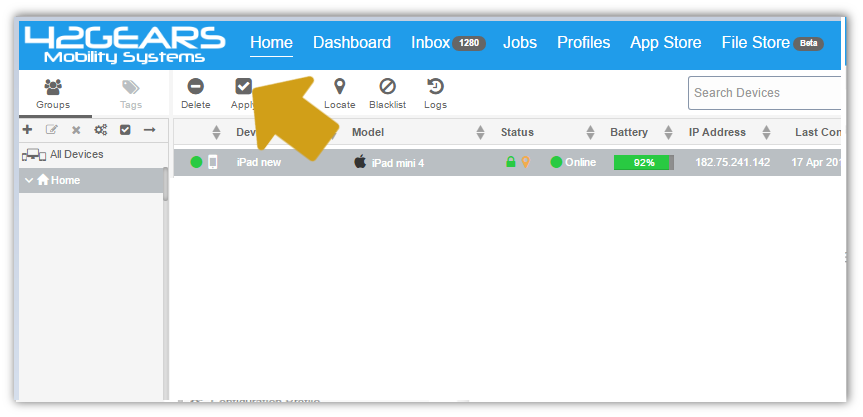 What else SureMDM offers for iOS?
In addition to the Single App Mode profile, you can use iOS profiles in SureMDM to perform the following remote activities on all enrolled devices with just a few clicks:
Blocklist/Allowlist Apps — This allows admin to block or allow applications on enrolled supervised iOS devices.
Web Content Filter — This section allows the admin to manage the websites, which users can access by blocking or bookmarking them on supervised iOS devices.
Branding — A very useful feature when you would like to use supervised iOS devices for branding purposes.
Passcode Policy – This allows you to define passcode policy profiles and remotely apply them on enrolled iOS devices.
Single App Mode Profile – Remotely lock down enrolled iOS devices to a single application and also remotely change the lockdown app.
Restriction Profile – This feature allows you to remotely disable selected iOS functions, native apps, and media content.
Application Policy – Remotely and silently install enterprise certified apps or download them from the App Store directly.
Configuration Policy – This feature allows you to remotely update or configure application profiles.
WiFi and Mail Configuration – This feature allows you to remotely configure WiFi and emails on enrolled devices.
Notification Profile — This section helps admin manage notifications from apps to appear on home screens of supervised iOS devices.
Global HTTP Proxy — Using this admin can configure settings for a proxy server for supervised iOS devices.
VPN – Use this section to configure your device to connect to a wireless network via VPN.
Certificates – Specify and remotely install corporate certificates and other certificates necessary to authenticate the device's access to your network.
Exchange ActiveSync – Use this section to configure settings for connecting to your Exchange server.
File-Sharing policy — This section helps admin share files with users using the File Store. Click here for details on File Store.
Education — Helps admin configure Education profile on the device.
Single Sign-On Extensions — Use this section to configure an app extension that performs single sign-on.
Home Screen Layout Profile — This section helps the admin configure the layout of apps and folders for the home screen of supervised iOS devices.
Apart from iOS, SureMDM offers comprehensive security and management features for Android and Windows mobile devices as well.

To learn more about SureMDM, click here.
Download SureMDM Agent from App Store here.

If you need further assistance, please submit a ticket here