More and more Android tablets are being used by enterprises for business purposes such as advertisement kiosks, digital menus in restaurants/hotels, inventory management applications, etc., To convert the Android device into dedicated purpose devices requires only a single application to run on these devices, all the time with restricted access to other features. This setting mode is called Single Application Mode.
You can use SureLock to configure Single Application Mode on Android devices.
Install SureLock and follow the below-mentioned steps to enable Single Application Mode on your Android device:
1. Launch SureLock
2. On SureLock Home Screen, tap 5 times within 3 seconds to launch the password prompt
3. Enter your default password – 0000 (four zeros) and tap OK
4. On the Admin Settings screen, tap Allowed Applications
5. On the Allowed Applications screen, use the Add App option to add your desired application in Single Application Mode
6. Tap Done to go back to Admin Settings
7. On the Admin Settings screen, tap SureLock Settings
8. On the SureLock Settings screen, tap Single Application Mode and enable the Single Application Mode option
Note: Please read the information message before you tap on OK.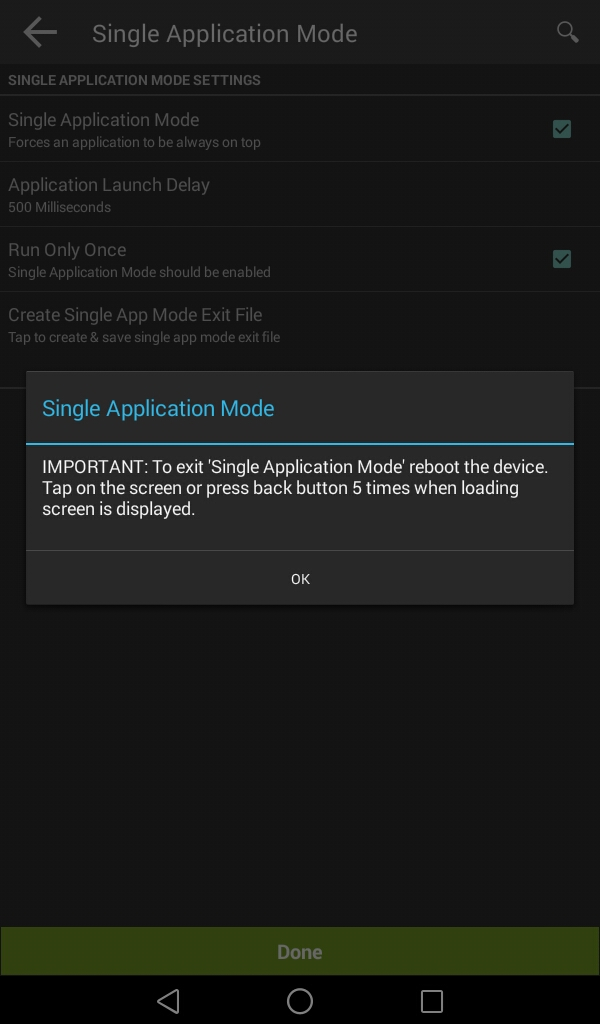 9. Return back to SureLock Home Screen. Your application will now run in Single Application Mode
Note: For the Single Application Mode to be enabled, only one application needs to be visible on SureLock's Home Screen. If you need to run more than one app internally, you can add other apps to the list of allowed applications as well and mark them as hidden. These hidden applications can be launched when accessed via the application visible on SureLock Home Screen.
Watch the video – Lock Android to a Single Application using SureLock
To learn how to exit from Single Application Mode, click here
To know more about other features of SureLock, click here

In case of further queries, you can reach out here.