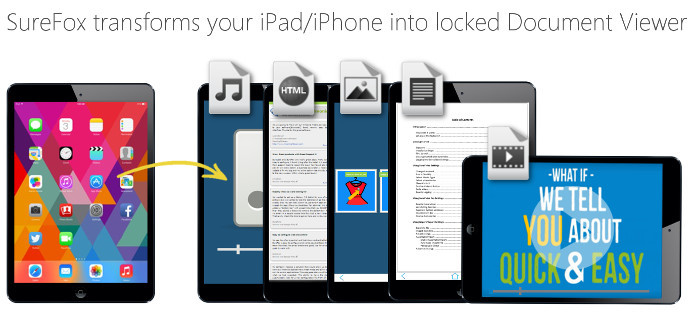 SureFox for iOS is more than just a lockdown application that allows browsing of only allowed websites. SureFox can also turn your iOS devices into a document viewer with access to only allowed documents.
Install SureFox and along with allowed websites, allow files like PDF files, images, word documents, video, audio, HTML files, etc. The allowed files will then reflect on SureFox Home Screen where the user can choose and launch desired files from the listed files. (as shown in the image below)

Here is how you do it:
1. Upload files using SureFox Upload Server
2. Once done uploading the files using SureFox Upload Server, launch SureFox
3. Launch SureFox password prompt by tapping SureFox Home Screen 5 times within 3 seconds
4. Enter the password to access SureFox Settings (Default Password – 0000)
5. On the SureFox Settings screen, tap on Allowed Websites
6. On the Allowed Websites screen, tap on Add
7. On the Allowed Details screen, under Protocol, select the file option
8. Under the URL option, tap on the browse button to launch File Picker
9. Select the file from the File Picker prompt and tap on Done
10. Tap on Add to go back to Settings to complete
Once done, you will see all the allowed files listed on SureFox Home Screen.
For more details about SureFox for iOS, click here
To download a lite version, click here
If you need further assistance, please submit a ticket here
Read more about our products: