Sometimes, while uploading APKs or files to SureMDM to create an Install job, file transfer job, or while uploading the APK to Appstore, we come across an error: Upload failed- Job size exceeds available storage.

This error appears when the SureMDM account using which you are trying to upload the APK or File is running out of available storage allocated to the SureMDM account. That is, when the storage is lesser than the size of the file, SureMDM shows this error.

There is a workaround to overcome this error. For starters, the admin will need to find out the available storage allotted for the SureMDM web console. Below are the steps to do that.
Steps:
1. Log in to the SureMDM and Navigate to the settings (Gears icon on the top right corner of the SureMDM web console)
2. Check for the available storage allocated for your account and the storage consumed.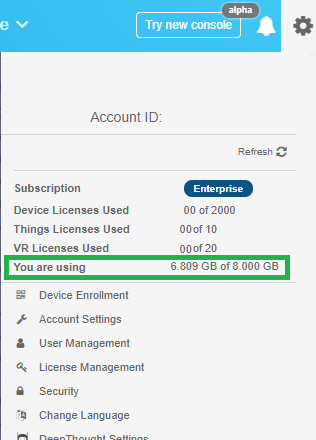 Once you have an idea of the storage left you can try using a few workarounds such as below.
Create an install job using the downloadable link of the APK. Click here for more details on this workaround.
Delete unwanted/test jobs that are consuming the storage on the SureMDM web console to free up some space to create a new job.
However, if these workarounds do not work it is suggested that the customer gets in touch with the 42Gears Support team. Click here to get in touch with the 42Gears Support Team.

For more details on our products, click here